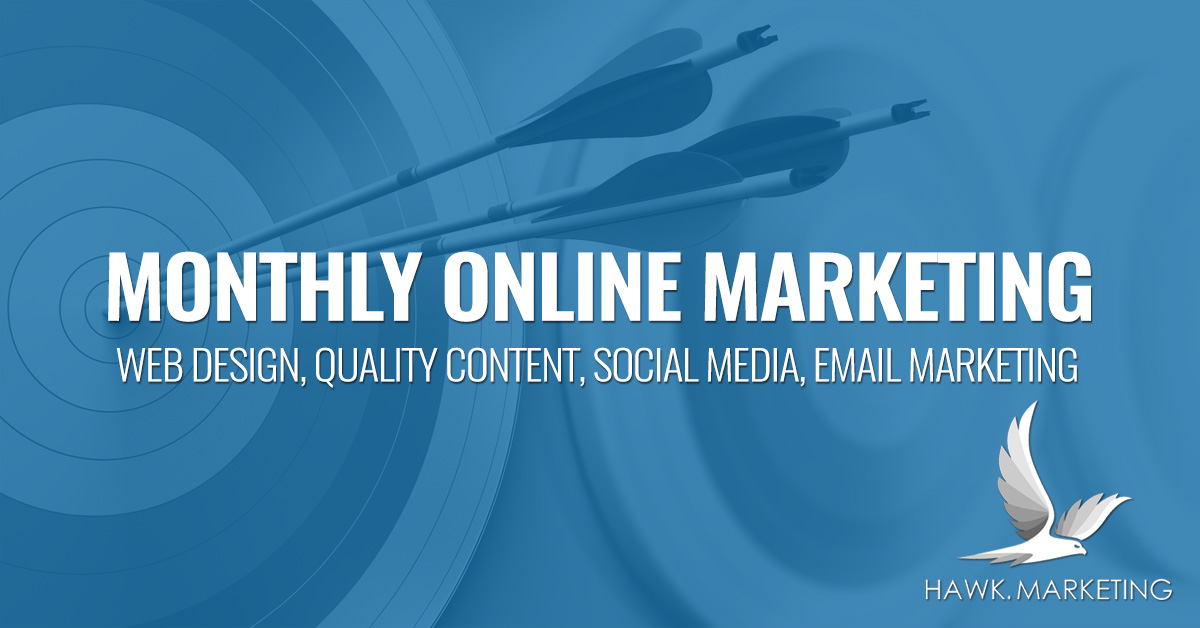 Here is How Our Online Marketing Works
Phone Calls – Our main goal with your online marketing is to generate as many new, qualified phone calls for our clients as possible. We do this by driving hundreds of targeted prospects their website. Then, count the conversions. We know that once on your site, visitors have the highest chance of making a phone call or filling out a contact form. Hawk Marketing listens to the calls to make sure new leads are coming in.
Content Marketing: Our team creates great content (examples; blogs, articles, pages, landing pages, click funnels etc…) for your website every month that will be found on Google.
Email Marketing: Hawk uses marketing tactics to help continually grow your email list. We send timely emails to your clients and prospects asking them to review your new content.
Social Media Marketing: Using the same content, our team creates boosted posts (paid ads) on Facebook and other social media platforms. Always leading visitors back to your website.
Most importantly, we track every call and contact form. We make sure that not only is the marketing working, but results are continuing to grow.
Month after month, year after year your email list, social media followers and website traffic continue to grow. Meaning, more and more phone calls as time goes on!
Online Marketing Services
Want to get your business off and running online? We have put together a package of services that we know will help you get more leads, referrals and sales. Hawk Marketing will set you up for future success with a high converting website, social media, Google maps & reviews, a Yelp profile and a Mailchimp (email marketing) account. Everything you need to get started off in the right direction.
Website: Hawk will create a conversion driven website with user intent in mind.
Set up or ensure a WordPress specific hosting account in the client name
Install the latest version of WordPress
*License, register and install the premium website theme, U-Design
Create custom graphics including; logos, icons, border images, call to action buttons, watermarked photography with your logo etc…
Choose colors, fonts, and formatting options to best showcase your brand online
Create landing pages for products and/or services
Create and test secure contact forms on every page
Create a secure WordPress user login for staff if one does not exist
Content Creation: Hawk will create custom content using the latest standards from Google.
Perform keyword research for commonly searched phrases within your industry
Perform content structure research to enhance content authority with Google
Perform demographic research to create content that speaks to your audience
Ensure content is the appropriate reading level for search
Test usability of the website, as well as user engagement
Check the keyword frequency of targeted keywords within the content
Utilize Heading Tags on pages properly to highlight the page's content for Google's indexing
Create internal links to onsite content to help Google index the site for search
Check the word count on each page and ensure that it exceeds the recommended minimum of 300 words
Technical Optimization Scope
*Install a SSL certificate to encrypt data and help prevent hackers
Install Schema.org which allows enhanced information from the site to appear in search
Create a Google Search Console Account for the client and perform the following;
– Verify Site Ownership
– Create install a Robots.txt file telling google which parts of your site are accessible
– Create and Submit a XML Sitemap which clearly shows google your site's layout
– Ask Google to scan your website for errors
– Ask Google to monitor your website for errors and mobile usability issues
Ensure that the site is mobile responsive and build for mobile first
Ensure that all phone numbers are clickable
Identify any bad back links if they exist
Create a Google Analytics Account and install the tracking code
*Create a Call Tracking Metrics Account to track online leads
Local Search Setup
Create a Google My Business Account for Reviews and Map Listings
Secure and update the Yelp listing
Social Media Setup: Create or secure the following social media accounts;
Facebook
Twitter
Instagram
Email Marketing Account Setup
Create a Mail Chimp Email Marketing Account
Create a template that matches the newly finished website
Monthly Online Marketing Packages
No Contracts
Silver
Two Custom Blogs
One Monthly Emails
Fifteen Social Media Posts
One Social Media Platform
$100 Social Media Boost
Custom Monthly Report
Phone Call Tracking
Gold
Two Custom Blogs
Two Monthly Emails
Thirty Social Media Posts
Two Social Platforms
$200 Social Media Boost
Monthly Phone Meetings
Custom Monthly Report
Phone Call Tracking
Diamond
Two Custom Blogs
Two Monthly Emails
Forty Social Media Posts
Three Social Platforms
$300 Social Media Boost
Monthly In-Person Meetings
Custom Monthly Report
Online Review Monitoring
Phone Call Tracking
Online Marketing
July 20, 2019