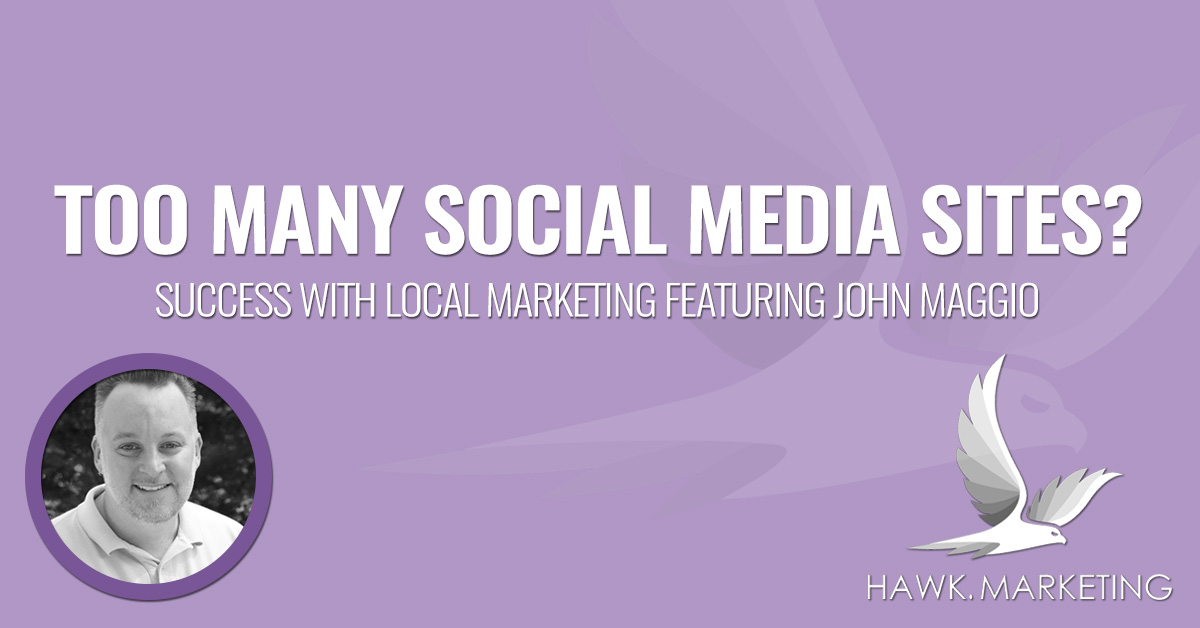 With so many social media options and platforms available today, how should you go about deciding where and how to post? It's probably not a good idea to post to all of them. You should be more targeted and strategic. There are several factors to consider.
One factor is the type of business you have. A marketing company can benefit from showing great graphics on a visually based social media platform like Instagram or Snapchat. A business that is best represented by words will do well on Linkedin or Reddit.
Arguably the most important thing to consider is your target audience. If you are primarily hoping to appeal to women, Pinterest may be a great social media platform choice. You'll find a younger audience on Snapchat or Instagram.
The final consideration would be the platform itself. I've outlined all the particulars about each social media platform below. Take a minute to review this information and consider the question at the end of the selection. Decide if this platform is right for your business and your audience.
Social Media – Twitter
Once a giant and still a top player in the social media universe, Twitter has grown to 330 million users. Results seem to be spotty though, with some having success and others not. It is my opinion that without the 2016 presidential election, Twitter would have fallen off the branch. But, with President Trump constantly creating newsworthy tweets, the brand had a semi-successful resurgence. Election meddling investigations revealed that approximately a quarter of the user accounts are fake, and seven percent are computer programs called bots.
Twitter does have its strengths as a social media platform. First, you can advertise so that you can reach a targeted audience. Twitter is Google friendly, so tweets and content come up in search. You can send a direct message to someone, which often stands out in a sea of emails. Want a little better reach on Twitter? Make sure to include a photo. Tweets with photos get an eighteen percent higher click-thru rating, approximately ninety percent more likes, and three times the retweets.
Twitter Stats
330M Active
50/50, Some have success, others not so much
One in four accounts is fake
Seven percent of the 330M are robots
It's an effective way to send a message or receive one
You can advertise
Tweets with images get eighteen percent higher CTR, eighty-nine percent more likes, and three times more retweets
Good for Search Engine Optimization (SEO)
On a scale of 1-5 (5 being the best), how important is Twitter for your audience? _________
Social Media – Instagram
Purchased by Facebook, Instagram is an ever-growing presence. Users who use Instagram, log in often. The platform has over 800M active users with over 500M logging in every day. Pay close attention to the demographics. Sixty-eight percent of users are female, with most being eighteen to twenty-nine years old. Companies are getting on board too.
Approximately 25M businesses are using Instagram, and that number is growing. You can advertise on Instagram and pick out your target audiences. Don't have an Instagram profile currently? No worries, you can still advertise through the Facebook Ads Manager. If you do not advertise, it is a bit difficult to get users back to your landing pages. Clicking on a post does not activate a link. Most drop a link in the post or profile description which is not ideal for click-throughs. Hashtags work very well on Instagram, increasing engagement by over ten percent. You can follow specific hashtags in your news feed. Instagram is a great opportunity to post a video or photo.
Instagram Stats
800M Active
500M Active daily users and growing quickly with 25M Businesses having Instagram profiles
You can advertise through your Facebook Ads Manager
Sixty-eight percent of users are female, fifty-nine percent of users are eighteen to twenty-nine, and thirty-three percent of users are thirty to forty-nine years old
#Hashtags work and increase engagement by 12.6 percent
Great opportunity to post a video or photo
Not good for referral traffic to your website
On a scale of one to five (five being the best), how important is Instagram to your brand? _______
Social Media – Pinterest
By far, women pin the most. Pinterest is a wonderful place to find positive inspiration. Whether it is ideas for recipes, decorating, or throwing the best party, over 175M people use Pinterest with four-fifths being women, most over the age of forty. Millennial women are starting to use Pinterest as much as Instagram, logging on several times per day. When polled, a majority said that they had made purchases based on pins. Often Pinterest is a source of research before purchase. With pins directly linking to landing pages, Pinterest is an excellent source of online referral traffic. A visual experience, Pinterest is a great place to post photos.
Pinterest Stats
175M Active Users
Eighty-One Percent of users are female
Millennials use Pinterest as much as Instagram
Eighty-Seven percent polled have made a purchase based off a pin
Seventy percent of Pinners are over forty years old
A major source for referral website traffic
Wonderful place to post photos
On a scale of 1-5 (5 being the best), how important is Pinterest to your audience? ________
Social Media – Reddit
The wild west of Social Media is Reddit. With over 250M active users, Reddit is an excellent place to consume news, blog posts, and photos. Topics are broken down into categories called Sub-Reddits. Within the over 800k categories, posts are voted up and down, and comments can be ruthless. Being disingenuous or not following the rules of the Sub-Reddits is frowned upon. Over seventy percent of users are liberal men. Most are between the ages of eighteen to twenty-nine.
Reddit Stats
250M Active
Great for News, Blog Posts, and Photos
Seventy-eight percent primarily use for news
Seventy-one percent Male
Fifty-nine percent are eighteen to twenty-nine years old
Topics are categorized into /Subs
There are 853,000 Subs
The community votes posts up or down
Comments are allowed but monitored
Great for referral traffic
On a scale of 1-5 (5 being the best), how important is Reddit to your audience? _________
Social Media – SnapChat
SnapChat continues to be the choice of Gen Y and Z. Most of the 300M users are under thirty-four years old. Half of these are between the ages of eighteen and twenty-four. But boy are they active. SnapChat may take the record for most times checked per day by users. Active users are logging more than eighteen times per day. The premise is that what you post publicly will disappear within twenty-four hours. There is also an incentive to post publicly daily and back and forth with your contacts, to keep your "trend going." Private messages are also supposed to disappear as well. With massive data breaches these days, this is a big plus for users.
SnapChat Stats
300M Active
178M Daily Active Accounts
Thirty Min Avg Per Day
Seventy-Four percent of users are under thirty-four years old
Half of all users are eighteen to twenty-four
Active users check eighteen times per day
Thirty percent of all Millennials Snap
On a scale of 1-5 (5 being the best), how important is SnapChat to your audience? _______
Social Media – YELP
An oldie but goodie… for some. At fourteen plus years old, YELP is one of the oldest companies on the web. With 145M visits a month, much of YELP's marketing spend is used to attract those visits. Mostly on mobile, and slightly more women than men, YELP's results are heavy into retail. Four categories make up four-fifths of all traffic; shopping, home services, food, and beauty/fitness. If you are not in one of those categories, there is very little reason to advertise with YELP. Not to mention, YELP requires long term contracts, and it is not easy to pin down a cost per conversion.
YELP Stats
145M Monthly Visits
Thirty percent Desktop, Seventy percent Mobile
60/40 Female
Ages twenty-five to forty-five
Fifty-eight percent make +$50k annually
Popular categories; Shopping, Home Services, Food, and Beauty & Fitness
These categories make up seventy-eight percent of the monthly traffic
Make sure to claim your business
Advertising is expensive and has long contracts
Yelp reviews can also help rankings in search engines
On a scale of 1-5 (5 being the best), how important is Yelp to your market? ________
Social Media – LinkedIn
Forty percent of the world's millionaires have a LinkedIn profile. Most LinkedIn users earn more than the national average. LinkedIn is a tenth of the size of Facebook, and over seventy percent of the users are international. LinkedIn is a great place to look for prospects. You can search through your connections' contact list and look for specific industries.
This creates a great way to ask for warm introductions. Unfortunately, users do not log in often enough. The average person only spends seventeen minutes a month on LinkedIn. Other platforms such as Facebook, Instagram, and Snapchat are exceeding that time in one day.
When people are on LinkedIn, they are usually checking up on someone's background and work history. So, make sure that your profile is complete and looking elite.
LinkedIn Stats
250M Active
Some B2B but not much
Your Profile needs to be elite
LinkedIn is a top source that people use to validate you after a meeting
Great platform for messaging prospects
Wonderful place to search for new prospects for warm introductions
Seventy percent of users are international
Forty percent of active users spend only seventeen minutes per month
Forty-four percent of users make more than 75k per year
Forty-one percent of Millionaires use LinkedIn
On a scale of 1-5 (5 being the best), how important is LinkedIn to your audience? ________
Social Media – Facebook
The big dog! Hands down, Facebook is used the most. Facebook has faced several scandals in recent years and is most likely to weather several more storms in the future. For now and for the foreseeable future, the Social Media Giant is very present and not going anywhere anytime soon.
Facebook Stats
2,072M Active (or 2.072 Billion)
1.36B Daily desktop and 1.57B daily mobile users
Split evenly, fifty-three percent are female, and forty-seven percent are male
Sixty-three percent of people ages 50+ use Facebook
Only five percent of the 50M small businesses boost posts
Facebook reduces the visibility of your page posts by as much as ninety percent, forcing you to pay to play.
The average user is connected to one hundred fifty friends, plus eighty pages, groups or events.
Facebook is a great place to post blog posts, photos, and video. Photos and videos get more engagement.
Leverage Facebook Live and Facebook Messenger to continue the conversation.
Facebook Profile
This is your personal feed. Your profile is used to access your groups and pages.
Facebook Business Page
Used by businesses, pages give you the ability to BOOST posts and reach new audiences.
Facebook Groups
A fantastic way to continue the conversation. Think subscription. Members will receive notifications, but you cannot boost.
Facebook Business Page Posts
Rule#1 make sure your posts link back to your site.
Rule #2 boost posts that link back to your site.
No hashtags needed.
Facebook Videos
Video is so big on Facebook that they have launched a network. Facebook Live continues to get increased engagement. I'm not a huge fan of every video being a Live Video. If you record your videos you can not only edit them, you can upload them to multiple platforms.
Facebook Galleries
Posting photos is a wonderful way to get engagement and use little to no words. Facebook wants there to be less than twenty percent of the total space to contain text. The less text, the more people Facebook will show the image to.
Facebook Messenger
Use messenger to reach out and continue the conversation. It seems easier to continue the conversation or even start a conversation on Facebook Messenger… More comfortable than a warm email or text message. We never suggest sending cold messages.
Sending too many messages too frequently is frowned upon. Sending messages with links that cause the user to leave Facebook is frowned upon.
Facebook Events
Creating an event is a fantastic way to engage with interested users. Like a group, users get notified of updates. Like a post, you can boost.
Facebook Pixel
Install the code on your site so that Facebook can give you more insights. Pixel traffic can be tracked and re-targeted for additional marketing.
On a scale of 1-5 (5 being the best), how important is Facebook to your audience? _______
Google Users
Did you know you do not have to have a Gmail account to have a Google account? Even if you have an iPhone, you can still use Google. Having a Google account is crucial to successful local marketing. There are options such as Microsoft and Apple, but Google offers a full suite of functional software for today's entrepreneur. In fact, ninety-two percent of startups are using Gmail. And, if you want to take your company's data to the cloud, Google Files Stream (formally Google Drive) is a terrific option.
+1.2B Active
You do not have to have Gmail to create a Google account
Google has free add-ons such as Docs, Drive, Gmail, Calendar, and tons more
Ninety-two percent of startups use Gmail
$5 per month per professional email
Gmail works on iPhones
Provides a free listing for all businesses on Google Maps
Google Maps appears before organic results
Google Adwords is a terrific way to buy traffic. The top 3 ads get forty percent of the clicks
Social Media – YouTube
Millennials are swaying toward YouTube for their main source of content viewing. Zillennials are already there. One and two-year-old children can easily navigate children's programs on YouTube. YouTube is a giant, and one of the only real competitors of Facebook. They recently announced stories just like Facebook, Instagram, and Snapchat. You can now even go Live on YouTube. YouTube is going to be an increasingly important part of your success with local marketing.
YouTube Stats
1.3B Active
5B Videos watched each day, and by 2025 half of America's viewers will no longer subscribe to cable.
Google My Business
As we mentioned, you do not need a Gmail email address to sign up for a Google Account. Google My Business is where you set up your Map Listing and monitor your reviews. This is a crucial step to ensure people can find your business online.
Add photos and confirm your map listing
Provides search insights, map data, phone calls, and more
Earn reviews
Make sure to monitor and respond to each review
Reviews help with SEO
Respond positively to all the bad reviews
Google Search Console
A free and very powerful account. The Search Console is where you monitor the health of your website as it pertains to Google Search. This is the place to install your Site Map and check to make sure Google is reading your Robots.txt file. You can also request Google to review your site and monitor any errors that may be preventing you from indexing in the search engine.
Connect your website to GSC
Submit a Site Map
Verify your Robots.txt file
"Fetch" the latest copy of your site
Google Analytics
A must-have! Google Analytics is free and powerful. See what seems like an unlimited amount of data sets for your website traffic. Which pages, what time, what operating systems? Measure cell phone versus desktop users and so much more. Create an account, and install the small code provided and tracking will begin.
Use this free service to track web traffic and visitor behavior.
On a scale of 1-5 (5 being the best), how important is Google to your business? ___________
Social Media – Making Sense of it All
I hope that you've gained clarity on Social Media Platforms by reading this post.  If you need more help afterward, or if I can help with any aspect of your marketing strategy, let's get together soon for a chat.  Contact us at Hawk Marketing and let's bring your business to life on social media!